Have you been thinking about giving your kitchen a brand new look? A simple kitchen renovation will improve the look and functionality of your new kitchen.
However, finding the money to fund your project can be tricky. This is not to mean that you should give up on your dreams altogether. There are several simple and affordable ways of renovating your kitchen. Here are seven affordable tips on how to renovate your kitchen.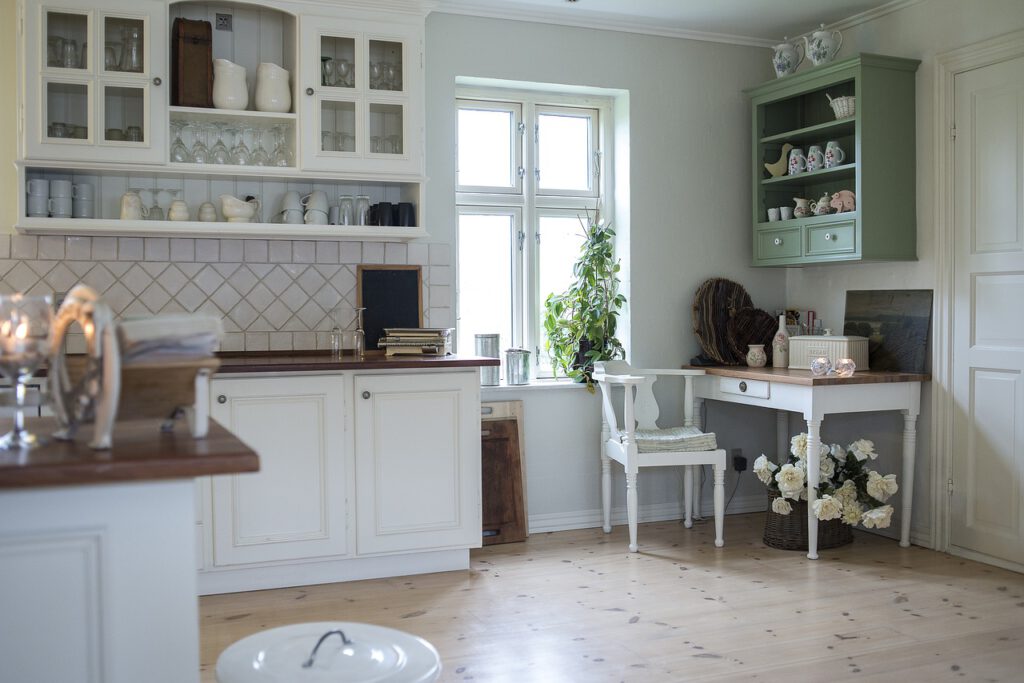 1. Re-using Cabinets with a Facelift
It is possible to give your old cabinets a facelift by replacing the hinges and knobs. You can also sand and restrain your cabinets to remove any scratches, color, and oil stains. Go ahead and paint the cabinets to suit your style. Consider replacing the doors and drawer fronts and adding a new veneer to the outside of the cabinet boxes. The use of open shelves can also give your kitchen a new look. The open shelves give your kitchen an open and airy look. Showing off pretty dishes is also possible when you have open shelves.
2. Refurbish Your Appliances
You can renovate your kitchen cheaply by refurbishing your appliances such as your microwave, garbage disposal, and your dishwasher instead of spending your money to buy a new one. Use a soft abrasive cleaner to scrub your sink and taps to give it a new look.
3. Shop for Budget Countertops
To give your kitchen a new look, you can replace your countertops. You can get affordable countertops at stores that offer discounts. Some of the low-budget countertops you can try are resin, quartz, granite, and wooden butcher's block. It is vital to choose a countertop that matches your kitchen style and budget.
4. Change Light Fixtures
You can try to look for an alternative lighting fixture if you find one that is too expensive for you. To give your kitchen a welcoming and warmer feel, you need to make sure that you use a bright light. Most light should be concentrated on the cooking area. Your switch panels must also match all the other fixtures in your kitchen.
5. A Simple Painting Job
Before beginning any painting job, you need to cover the floors in case of any spilling. Use colors that match your designs. Using new curtains can also improve the look of your kitchen. After all, new curtains look and smell nice.
6. Changing the Kitchen Faucet
Another great way of giving your kitchen a fresh look on a budget is to install a new kitchen faucet. With upgraded kitchen faucets cooking and cleaning will be made easier. Use modern kitchen faucets for better functionality.
7. Add a Fancy Tile Backsplash
To upgrade your kitchen, you need to choose colorful tiles to upgrade your kitchen's look and feel. Choose dirt and water-resistant tile backsplash to protect your tiles from stains and increase longevity. Using wallpaper can also improve the appearance of your kitchen.
8. Maintain the Same Kitchen Layout
You can end up spending so much money on your kitchen renovation when you change the kitchen layout. This is because you will need to add new plumbing features and electrical features. Maintaining the same kitchen layout will make it easy for you to handle the renovations to avoid all these costs.
9. Upcycle Your Old Furniture
You can paint your chair and tables in your kitchen to make the colors suit the house's theme. Upcycling furniture will reduce the number of waste materials thrown in the landfills and improve creativity since you can create your furniture uniquely to fit your style. It is also possible to save your money since you will not need to purchase any new material or new furniture.
Benefits of Renovating Your Kitchen within a Budget
Renovating your kitchen, even if you are on a budget, is the best thing to do. Let us take a closer look at the top benefits of renovating your kitchen below:
Enhances Functionality
Kitchen renovations will make it easy for you to clean and cook by increasing your kitchen's functionality and aesthetics.
Improves Safety and Comfort
Working in a cluttered kitchen will make it possible to hide all the pointed tools and sharp knives. During the renovation, you can change the old appliances that may be unable to handle the modern energy. You can get the new appliances designed to handle the energy.
Increases Home Value
When selling your home, you may not find a willing buyer if your kitchen is old and outdated. Kitchen renovations will speed up the home selling process since most home buyers will be attracted to the modern kitchen design.
Reduction of Energy Consumption
Your energy bill will always increase when using old appliances. Your old appliances consume so much energy when working. Kitchen renovations will allow you to install the latest kitchen appliances to reduce energy consumption since they are made to use less energy and perform better.
Increase Storage Space
When renovating your kitchen, you will have the chance to add more storage space, such as cabinets. Also, you can install kitchen shelves to make a small and dark kitchen look big.
Increase Comfort
Remodeling your kitchen offers you a chance to increase your comfort. You can get to add chairs in your kitchen and improve the ventilation of your kitchen. It is also possible for you to use a material that's more eco-friendly when renovations your kitchen.
Create Your Ideal Kitchen
If you do not like how your kitchen looks, renovation can help you change it to suit your design at a low budget. You will therefore get a chance to work in your dream kitchen. The good part is that you can do it on a budget.
Although times are hard, giving your kitchen a look you have always desired is still possible. All you need to do is take advantage of these cost-effective renovation tips to create a kitchen you will love, and your visitors will envy. You can also contact a certified and experienced kitchen renovation expert to discover affordable kitchen renovation tips for 2021.