Choosing the right countertop can really make your kitchen look great and cozy. Whether you just bought a new home or you just wish to upgrade your long-time house, an elegant and durable countertop is a must. In order to choose the best countertop for your needs, you should take several factors into account, like your home's decor in general, the hardness and durability you wish to see in your countertop, as well as how much your choice matches your cabinets, floor and other furniture in your kitchen. So, what are the different types of kitchen countertops?
Granite Countertops
A natural stone that's also, extremely durable, granite has been the standard gold in the countertop industry for years. Granite is available in several different colors, from dark blue to lighter variations. Granite can be cut into different edges and that's particularly useful if you have no ordinary kitchen shapes. Moreover, granite countertops are really easy to maintain and clean. You just have to use a bit of soap and water to wash the dirt away. If you want to place your pots directly from your oven onto your countertop, then choosing the granite material is great, since it is highly heat-resistant.
Marble Countertops
Having a kitchen with some marble details will definitely make it more contemporary-looking and elegant. This natural stone that looks bright and polished is available in other colors, like gray, green, and brown. A great feature of this material is its ability to maintain a low temperature. That makes it ideal for people who love to bake regularly. You can easily roll out and shape dough on a marble countertop. On the other hand, marble is naturally more porous compared to other materials, and thus, temporary spills from red wine or orange juice may easily become permanent. If you are afraid that your children playing around or even yourself may spill something over your marble countertop, then you should probably choose another material.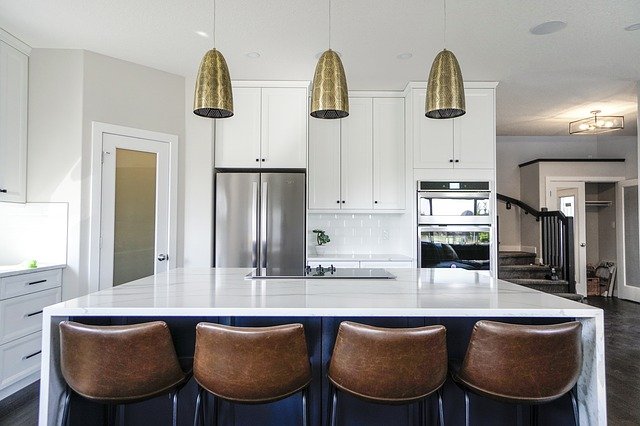 Concrete Countertops
If you wish to add a special and unique touch to your industrial or modern kitchen, then you could consider a concrete countertop. With a striking look and high durability, this material will rarely get damaged. However, you should have in mind that concrete will require several days, typically about a month to fully dry. Therefore, if you are on a tight timeline, you may have to opt for another material. In each case, concrete countertops can be shaped in exactly the dimensions you wish to and precisely to your liking. It also offers a huge variety of color options. That's really great if you wish to experiment with different colors and their combinations.
Stainless Steel Countertops
Stainless steel has always been a popular material for commercial kitchens. Nowadays, it has become really popular in residential kitchens, as well. A stylish and industrial-looking material that will make your kitchen stand out. Stainless steel is also, easy to maintain and clean, using a product specifically designed for this type of material. However, if you have children in the house, you may have to reconsider choosing this type of countertop, since it is more prone to fingertips, scratches, and water spots.
Tile Countertops
Tile has been an extremely popular material back in the 80s. However, it has nowadays, started to become popular among users wishing to remodel their kitchen using an affordable, and yet stylish material for their countertop. Tiles are available in several sizes and shapes and therefore you can fully customize your kitchen depending on your preferences. A great benefit of using a tile is the fact that once broken, it can be replaced more easily compared to other materials. Keep in mind, though, that although tiles are typically both heat and scratch-resistant, they can also, chip and get damaged over time.
Undoubtedly, kitchen remodel requires proper planning and a lot of imagination. Kitchen countertops can really make all the difference in your kitchen. From the variety of available options, the final choice should be determined by your kitchen's dimensions, the style of your kitchen, and the amount of use you wish to put upon your countertop. In each case, all of the above-mentioned materials are worthy of looking, efficient, durable, and stylish at the same time.